Are you confident with your approach to spending and saving money?
Are you at peace with the energy of money in your life? 
Is your relationship with money positively fueling your life, work choices, creativity and authentic self-expression?
Are you clear about who you are, what you value, and how you want to impact the world and your community?
Are your values and purpose being honored through your money plan? 
Are you aware of your tendencies and limiting patterns with money and how to break them?
Do you have healthy financial boundaries in place?
Do you know how your biology (aka your nervous system) might be influencing your financial habits and behaviors?
If you answered no to even one of these questions, then this program is for you 😊
The Money Sanctuary is the perfect place for you to heal your money wounds and start building a healthy relationship with money.

You know that there's so much more to life than worrying about money...
You know you're meant to do big things during your lifetime and you have this deep knowing that you are meant to create an impact in your community and even on the world!
You are someone who is ready to express yourself more authentically and you are committed to aligning all aspects of your life, yes including your finances, with your values, your life's mission, and who you truly are...

🙌🏾 Hello & Welcome! You are finally in the right place 🙌🏾

I designed The Money Sanctuary specifically for people like you!
People who are ...
Healers, and soul seekers…
Lightworkers and space holders 
Artists and creators
Who are ready and committed to breaking free from money fear, and want to turn finances into a spiritual, self-care practice so you can fully embrace a life that turns you on, with money by your side as a friend and ally fueling your creativity! 




Inside this program, you will find over 17 modules designed to help you manage your finances, meet your money goals, and create a relationship with money that fits your unique financial needs, boosts your confidence, and helps you bring your dreams to life without having to:
Penny-pinch
Compromise your values
Tame or Suppress your creative spirit
Contort yourself to fit into someone else's rigid system,
As your guide, I will help you move through both the practical (budgeting, saving, etc.) and the energetics (emotions, values, purpose, spiritual, etc.) of money to craft a lifelong relationship with money that works and feels good for you, so you can do what your soul came here to do- aka, express yourself fully and unapologetically in all aspects of your life, and connect with pleasure and your life's purpose!
All lectures and coaching sessions are informed by my training, research, and experience in:​​
Behavioral Finance

Archetypal and Parts Work

Polyvagal Theory 

Nervous System Healing, Care + Repair.

Somatic and Mindfulness Awareness.

My Intuitive Channel. 

Inner Child Healing, Attachment Theory, core childhood wounds, and trauma healing.

Accounting, Financial & Life Coaching.

Principles of Personal Finance -

 but I make them super fun and trauma-sensitive don't worry!
Money can become a Spiritual Practice
Back in 2015 when I had my own spiritual awakening I was CRAVING to live more creatively and authentically. However, my relationship with money was riddled with anxiety and deep scarcity. It held me back from doing what my Soul knew I had to do.


Not only did I know that developing a healthier relationship with it will empower me and help me amplify my impact, but I also knew that helping others do the same was part of my mission in this lifetime.

My mission is to help you express your life's purpose as authentically as possible, and I know how being burdened by your relationship with money does not allow for this full expression. 


This program teaches you the practical mechanics of money and shows you how you can develop a relationship with money and turn it into a spiritual practice that will help you amplify your impact and authentic self-expression.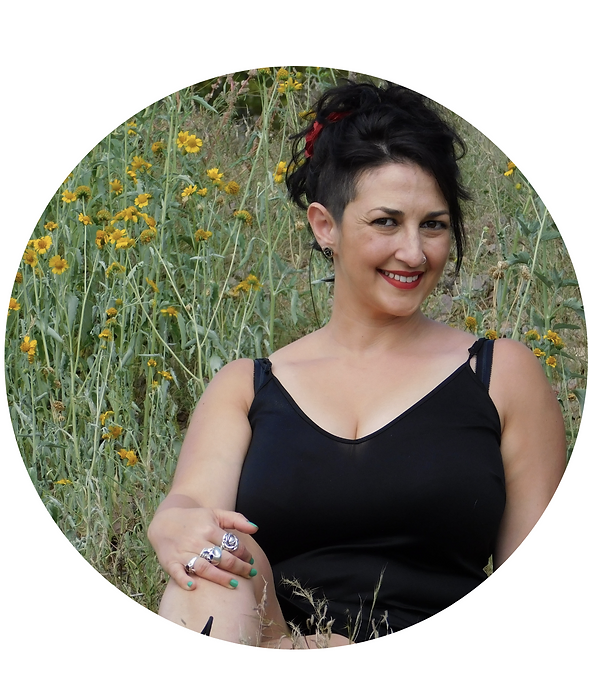 This is the program I wish I had available when I had my spiritual awakening in 2015.
I created this program based on what I learned on my own awakening journey.
I knew I had to improve my relationship with money so I'm no longer feeling the burden of my financial anxiety and scarcity crushing my intuition and agency.
Everything I found back then was so "square" and binary: you should do this, stop doing that, save more, spend less, control your urges..... I wanted something that catered for and HONORED my creative soul and my wild intuitive hits that may sometimes guide me out of the blue to move countries or hire a coach or do whatever it wants me to do! And I don't know about you but my intuition is sometimes expensive, it definitely vibes differently to how our 3D world functions and knows no financial limitations!

This program is designed specifically for those who are guided by their spirituality and creativity... so if you're someone who just wants to build wealth, this might not be the right place for you.
Have you ever felt like the financial world and its jargon crushes your creative spirit?
Have you experienced growth and expansion in many areas of your life yet money makes you feel small, burdened, and disempowered?
Are you building up the courage to face the elephant in the room?
Do you feel ambivalent about diving in because, in the past, you were made to believe that being good with money meant following a prescribed path or strategy that was created by people who don't even align with your vision and mission, people who don't see the world the way you do?

Are you tired of one size fits all BS strategies that make you feel like you have to work against yourself to make this money thing work… & You are DONE with superficial mindset work that doesn't suit someone as creative and multi-faceted as you are...

🙌🏾 You're finally in the right place 🙌🏾

In the Money Sanctuary, you will:
Have a spiritual practice around money that feels authentic, abundant, and liberating. 
No longer feel a sense of doom and dread when you receive bills and payment due notices.

Your finances will be organized in a way that makes sense to you without being forced into a budget, and you are able to pay all your bills and dues on time with confidence. 
Create a holistic plan for your money, build an emergency fund, learn how to save for retirement, better understand and leverage your credit score, start paying off debt and learn how to use your credit card with confidence

… all without needing to compromise your values or restrict your soul. 
Listen to your intuition when you feel like your gut is steering you towards a new goal or a passion that costs money. You will listen to your gut, and allow yourself to act on the guidance that's coming through because you can afford it.

You will no longer dismiss your desires and gaslight yourself!
Feel confident about your financial know-how. You know what you need to know, and you no longer feel heavy or ashamed about your lack of financial education. You no longer check out when money is mentioned, and you no longer subscribe to financial strategies that promote more discipline, frugality, or restriction.

Feel integrous, because your finances are in balance & alignment with your values, intuition, and creativity.
Have effective financial boundaries in place that are flexible yet nurture your energy and resources.

This is an integral part that is often missing from building a healthy relationship with money from a place of empowerment, rather than a place of defensiveness, shame, and fear.
Have a highly adaptable money plan and process in place that help you take care of your financial obligations and honor your deep desires, hobbies, and passions, no matter how outrageous they are!
You will feel confident with money. It no longer holds you back, but fuels your creativity and your Soul's purpose. 
You will transform your relationship with money into a spiritual practice that promotes your growth & expansion, and provides fertile ground to help you heal your shadow parts.


What you get:
17+ workshop recordings on finances, money energetics, and money healing that you can watch on demand. (Scroll down for a sneak peek at the curriculum!)
Accompanying workbooks to facilitate your learning experience.
Access to monthly group coaching with Coach Nadine and a supportive community.
We meet on the second Wednesday of every month at 5 pm PST.
Forever Access to all material.  


All for a one-time payment of $499 USD

✋🏽 Hold Up! Before you enroll...
If money is deeply triggering or activating to you, then I highly recommend you book a Clarity Session with me first so we can uncover the roots of your emotions around money.
This is not suited for people who:
Poo poo spirituality and the energetics of money.

Believe in strategy alone to fix their finances and relationship with money.

Are not ready to dive deep into their psyche and examine their behaviors around money with curiosity and a gateway for deeper healing.

Only want a financial strategy or a budget, and are not sure if they want to have a spiritual practice with money (nothing wrong with that, but this is not the right place for you) 

Don't have the bandwidth to commit to developing a healthier relationship with money right now-

& that's ok we'll be here when you're ready. 

Only have a specific goal in mind that they want to plan for soon, like a trip or buying a house. I recommend you book a

Clarity Session

for that. 



Here's a Sneak Peak at the Curriculum

I would love to leave you with this little love note...
For people like you, people who are led by their heart and soul, creating a healthy relationship with money is ultimately not about money.
Cultivating a healthy relationship with money is about honoring your Inner Guidance, your creative spirit, and intuition...
... It is also about your impact on this world, and about becoming a pattern breaker...
... It's about not being held back by fear.
... It's about embracing life and living it to the fullest. 
❤️
Nadine